Welcome to the group! Feel free to join if you use flash! Even if you don't use flash often or haven't posted anything related to flash, you can join and get inspiration! There are few rules here, but please follow them.



Rules:


Have fun!


Dont steal peoples work


Do not reuse peoples work in any way without their permission


No ranting on peoples work


No dress up games (as here in this flash group where highly
focus on high advance flash gaming programing and not the classic simple dress up game programing)


no flooding with just your work there are others besides you who are willing to showcase there awesome work! and as much as i love seeing just your promoted art , that will just pissed off others




our sexy visitors!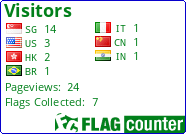 JOIN THE OFFICIAL CHATROOM FOR FLASH-FOREVERZ SO CLICK HERE NOW!


Download the official app for the flash foreverz deviantart group(Android users only!)

fanapp.mobi/flash_foreverz